Aerobic-Kickboxing
Bored with your aerobics class? Looking for a high-intensity workout that will increase your strength and flexibility while burning fat? Are you reasonably fit already? Then cardio-kickboxing may be for you.
What is Aerobic-Kickboxing?
In our kickboxing classes we use a heavy bag, gloves, jump rope, timer and music, the workouts build cardio endurance and muscle tone. The concept is unique in that it teaches proper punching and kicking form and basic fighting techniques while offering a full-body workout. Classes are taught in a group setting to boost participation and intensity.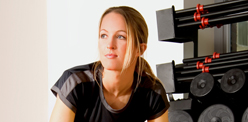 Some aerobic-kickboxing classes spend at least part of the time kicking and punching weighted, padded targets or engaging in actual sparring. The class may also incorporate traditional exercises, such as jumping jacks, abdominal crunches, leg lifts and pushups to create a total body workout.
In addition to improving and maintaining cardiovascular fitness, aerobic-kickboxing increases strength and flexibility, improves coordination and balance and sharpens reflexes, according to the American Council on Exercise (ACE). Aerobic-kickboxing also may help relieve stress.
What kind of workout gear should I wear?
Wear comfortable exercise shorts and a non-restricting t-shirt or tank top. Women should wear a sports bra. Bring a towel and water to class. (Drink plenty of water before, during and after your workout.) You may also want to bring a mat for floor exercises and wear a sweatband around your forehead.
Wear aerobic shoes or other lightweight athletic shoes designed for pivots and lateral movements. You could risk a sprained ankle if you wear running or walking shoes on carpet.
You'll be hitting a bag or sparring, you'll also need wraps and gloves to protect your hands and wrists. The wraps are long strips of absorbent cloth that are wrapped around your hands and wrists and secured with Velcro. Boxing gloves come in a variety of sizes and degrees of thickness. All gear necessary can be purchased at Sr. Master Kassebaum's ATA.
Kickboxing locations
[ezcol_1third]
Sr. Master Kassebaum's ATA
Taekwondo, Krav Maga, KM Defensive
Tactics, Jiu-jitsu, Kickboxing
Sr. Master Mike Kassebaum
2111 Harvell Drive
Bellevue, NE 68005
402.682.5425
E-mail: Sr. Master Kassebaum
[/ezcol_1third] [ezcol_1third]
Nebraska ATA Martial Arts
Taekwondo, Krav Maga
Tactics, Jiu-jitsu, Kickboxing
Mr. Ryan Miller
10208 South 168th Street
Omaha, NE 68136
402.305.9337
E-mail: Ryan Miller
[/ezcol_1third] [ezcol_1third_end] [/ezcol_1third_end]